Optimal geometry and material
In the myriad of standards possibly you were irritated about DIN/ISO/ASME already. We understand your problems and would enjoy helping you out to make the right declaration.

While issues about dimensions can be relative simply measured with a calliper, the selection of the proper gasket material can be a even more challenging issue. With your knowledge about the actual stress conditions in the process and our market survey, together we will find out which material is the best choice for the particular application. We would be glad to assist you when observations or damages need to be evaluated. This also helps us to gain further experience.
Beside the actual high standard of quality, we offer our full support in discussing upcoming requirements.

Our suppliers offers the widest variety of materials and material combinations. One of them is the right one for your application for sure!
Materials:
Silicone
EPDM
FFKM = Kalretz®
FKM = FPM = Viton®
PTFE- solid
PTFE- envelope
PTFE- jacketed = Tri-Bond® = Tuf-Flex®
PTFE filled with glass- particles = GYLON®
PTFE filled with stainless- steel- particles 316L = Tuff steel® = Steam-Flon®
PEEK
Snap on™  - construction with Silikon or EPDM- insert !!!NEW!!!
TC- Clamp- features:
single- pin / single hinged clamps
douple- pin / douple- hinged clamps
triple- section clamps
double- bolted clamps / none hinged
non- metaillic clamps
coloured clamps
with wing- nut (open / partially closed / with a hole / closed)
with 13mm hex- nut
with torque- nut
with 180° mechanism
torque- handle to be used as tool
Special functionality- gaskets:
blind
orifice
protection- sleeve (for pressure- transmitter)
steam- trap
check- valve
screen
burst- disc- gasket
validation- gasket (for Thermocouple, Pt100, bio- indicator paper & liquid ...)
colour- coded
We supply products of: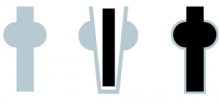 for any question or further informations. call: +43 1 587 29 47