Partners for aseptic solutions
With our mission we face the challenge of being part in satisfying all requirements, to enable the pharmaceutical companies to produce drugs. Participating in helping to maintain and improve the quality of life of many people is the major motivation for us.
The satisfaction of the associated quality standards is just as certain as keeping compliance with general legal and economic requirements.
We serve our customers in the CEE countries (Austria, Hungary, Czech Republic, Slovakia, Poland, Bulagia, Slovenia, Croatia) immediately with competence.
Our products are designed and optimized to meet the specific requirements of the aseptic production environment and liquid dosage form.
We have the unique opportunity to draw from the large portfolio of multiple suppliers. Thus we are able to respond to the customer´s individual needs and their project-specific focus in price, timeline, quality or individuality.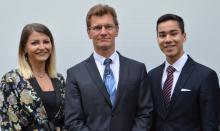 for any question or further informations. call: +43 1 587 29 47